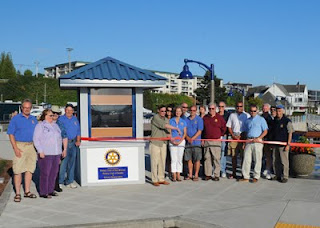 The Rotary Club of Des Moines, Washington, founded in 1958, has a long and rich history serving the Des Moines and Highline Communities. The Rotary Club of Des Moines  is a member of Rotary International, and shares the international organization's mission, vision and values.
A sample of the many service projects led by the Rotary Club of Des Moines include community literacy, parks improvement, support to the Des Moines Area Food bank and other service organizations, partnership with local schools, and sponsorship of community events, including the annual Poverty Bay Wine Festival and the Poverty Bay Blues & Brews Fest.
Our Mission
The Rotary Club of Des Moines is an association of civic leaders who are making our community and the world a better place to live, learn, work, and play.
2015-2016 Club Officers
President: Janel Stoneback
Secretary: Alison Pacunski
Club Treasurer: Kerry Wallingford
President Elect: Carri Litowitz
Past President: Scott Logan
Committee Chairs
Community Service: Dan Johnson & Dave Markwell
New Generations:  Lisa Leone & Carri Litowitz
International Service: Mark Rusnak
Foundation:  Andrew Rogers
Membership:  Catherine Carbone Rogers
Club Service: Janel Stoneback
Public Relations:  Tim George
Vocational Service:  Al Isaac & Andrew Mahugu
Sergeant-at-Arms: Jim Polhamus
Programs: Peter Philips
Wine Festival:  Scott Logan
Blues and Brews:  Brian Snure.